Organisations are increasingly seeking to implement ISO27001 and achieve certification. However, it is difficult to know all the ins and outs before embarking on this journey. Ultimately, the most important thing is to ensure that the standard meets the needs of the organisation implementing it. Let's take a look at those needs.
What is ISO27001 and what companies are ISO27001 certified?
ISO27001:2013 as it's formerly known, is the international standard for implementing an Information Security Management System (ISMS). The standard provides a framework which helps to manage information security effectively within your business. This means that ISO27001 certification or compliance does not guarantee information security, it simply means that you understand the information and cyber security risks to your business and have designed and implemented controls to effectively mitigate those risks to acceptable levels.
Since ISO27001 is an international standard which requires you to identify, design and document your own processes and management system, it can be used by companies of all types and sizes, across all industries and sectors.
This certification is not necessary a legal obligation but is one of the most recognised information security standards used to provide assurance to internal and external stakeholders. Many businesses require their suppliers and third-party providers to demonstrate that security is appropriately managed by having ISO 27001 certification. Therefore, if you are a supplier of services to other organisations, obtaining an ISO27001 certification can enable you to win more business, reduce the amount of due diligence activities that organisations perform on your business, and provide an easier route to sale.
What are the benefits of ISO27001 compliance?
The benefits of a successful and effective ISO27001 implementation can be split into two broad categories:

Internal benefits
Provides a defined framework that organises information security management, governance and operational security activities.
Enables an organisation to review the risks it faces and implement proportionate controls to mitigate identified risks.
Promotes continual improvement and takes into account internal and external factors that could impact your organisation, enabling you to prepare if a disaster strikes.
Enables the organisation to win more business, as ISO27001 is often seen as a pre-requisite for many requests for proposals and commercial frameworks.
Enables the organisation to respond to supplier due diligence requests more effectively, as controls implemented as part of ISO27001 certification often cover questions being asked in due diligence questionnaires.
Once you have implemented ISO27001 and the supporting people, process and technology required you can effectively plan and understand your information security budget.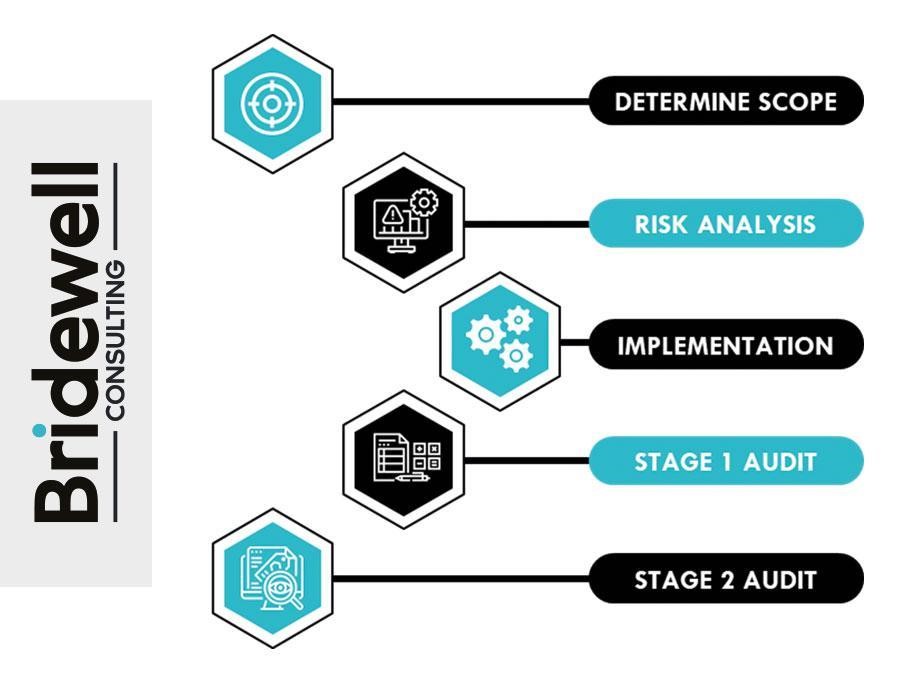 External benefits
Improve your digital presence – Your digital presence and reputation will be improved by demonstrating that you take information and cyber security seriously and have achieved an industry recognised certification.
Increase sales opportunities – We have spoken about how ISO27001 can help you to meet tender requirements but what about the tenders you were never invited to? There is a possibility that not having ISO27001 certification published on your website could exclude your company from being approached. At least with ISO27001 certification displayed on your website, prospective buyers can see that you have achieved an international standard and have policies, procedures and processes that have been independently assessed.
How can I obtain an ISO27001 certification?
ISO27001 certification is achieved by demonstrating that the processes you designed and implemented within your management system are operating effectively, meet the requirements of the standard and provide effective identification and management of information security risk. To get the most benefit from ISO27001, it should not be treated as a checklist exercise, as this will not align to your business' ways of working and it could become a burden to remain certified.

ISO 27001 is a continual improvement activity that must meet the needs of the business instead of forcing the business to perform ad-hoc tasks to meet the needs of the standard. To start your ISO27001 journey, these are the first and most important high level aspects in preparation to your certification audit:

Obtain leadership support
Define the scope of the ISMS and subsequent ISO27001 implementation
Define your risk assessment methodology and perform a risk assessment
Design your information security management system (ISMS) and implement a set of information security policies and procedures
Collect evidence to demonstrate that the policies have been implemented and controls are operational
Ensure your employees and key stakeholders are provided with awareness training on information security and the most relevant threats to your organisation.
Once you have implemented policies, procedures and processes for ISMS and are able to effectively evidence these, you can contact a certification body to undertake the certification audit. We recommend using a certification body that is accredited by the United Kingdom Accreditation Service (UKAS) to provide assurance on the validity and robustness of your certification should you be successful.

Achieving ISO27001 certification might seem overwhelming, but it can be made simpler and more straightforward by engaging with a ISO27001 consultancy that can provide the expertise your business may lack. Working with the right cyber security consultancy will increase your chances of success and instill expertise within your organisation that will ultimately help to maintain the certification once it's achieved, not to mention the peace of mind.
If you have any further questions around ISO 27001 or want to discuss the process please just give us a call. At Bridewell we are in it for the long term. As a trusted partner, our team of experts can assist you on your cyber security journey and beyond. For further information or a no commitment chat, on any of the above, please get in touch
here
.