It's been a week since BridewellCon 2023 and the team are still buzzing!
You may have seen some of our best pictures from the event already on our Instagram and LinkedIn – and a few of our worst ones - but we've still got a few surprises yet. We couldn't be happier with how the event went and we're already looking forward to BridewellCon 2024.

To give you a full rundown of what we got up to, we've put together this round-up. Read on to learn more about what BridewellCon is, why we do it, and to browse some pictures from over the two days.

What is BridewellCon?
BridewellCon is our annual company day where all our employees from across the UK and US come together to catch up, hear key updates from the rest of the business, and talk about the coming year. As well as hearing updates from within the business, we invite industry leaders and experts to share their insights and experiences.
This was our first ever BridewellCon. With over 200 of us now at Bridewell, it's a big event that needed a big venue. This year, we headed to CenterParcs Woburn, where we had a packed two days of talks, activities and other opportunities to get social.
What Did We Get Up To?
It was a busy event spread over two days. Above all, we wanted an event that reflected our values of:
Do the Right Thing
One Team
Above and Beyond
So, how did we do that?

Key Notes
We had people from all across the business up on the podium to share updates, previews of their future projects, as well a few big announcements we can't talk about yet. (Watch this space!)
Among our many speakers, we had:
Members of our executive team: Scott Nicholson, Anthony Young, Martin Riley, Emma Leith
Representatives from our Consulting, Managed Security Services, Sales, Finance, Marketing and Operations teams.
Leaders from our Bridewell communities: the Bridewell Women's Network, the Defence and Emergency Services Group, Pridewell and the Neurodiversity Community
External Speakers
.
Joining us at BridewellCon, we also had a number of people from outside the business presenting on key topics.
James Haskell (Former England and Irish Lions rugby player) discussed the important issue of mental health and did a Q&A
Ben Stocken (CEO at Westpeak) discussed how to bridge the gap between good and world class.
Sunitha Kunnathattu Madambil (Partner Security Architect, Microsoft) covering new developments in the Microsoft Security space
Taz Wake (Institute Instructor, SANS) shared lessons from the field as an incident responder

Sports, Spa, and Shuffling
Outside of company updates and presentations, we got up to every activity you can name. There were also a few we'd never heard of (katakanu, anyone?).
We had a mix of competitive and not-so-competitive activities including: archery, bowling, badminton, tennis, indoor climbing, pottery paining, laser tag, and a spa day.

At the end of day one, we also had some dinner and disco. Joining us from our US office, we had self-appointed 'King of the Dance Floor' Kele teaching us how they do things state-side.

We kept the party going into the early hours. (Precisely which hour, we will never know).


Conclusion
We've all come away from BridewellCon with some new ideas, new friends in the business, and unforgettable experiences. There's already a lot of excitement for next year where we know it will be even bigger, building on the successes of the coming year.
We're also looking forward to welcoming many more people to the Bridewell team - if you want to join in on the fun, check out our careers page.
A special thank you to everyone across the Bridewell team for getting so involved (and for sending your pictures in). BridewellCon 2023 couldn't have been such a success without all your energy and enthusiasm. Finally, we'd like to acknowledge the HR team for organising such a great event - bring on 2024!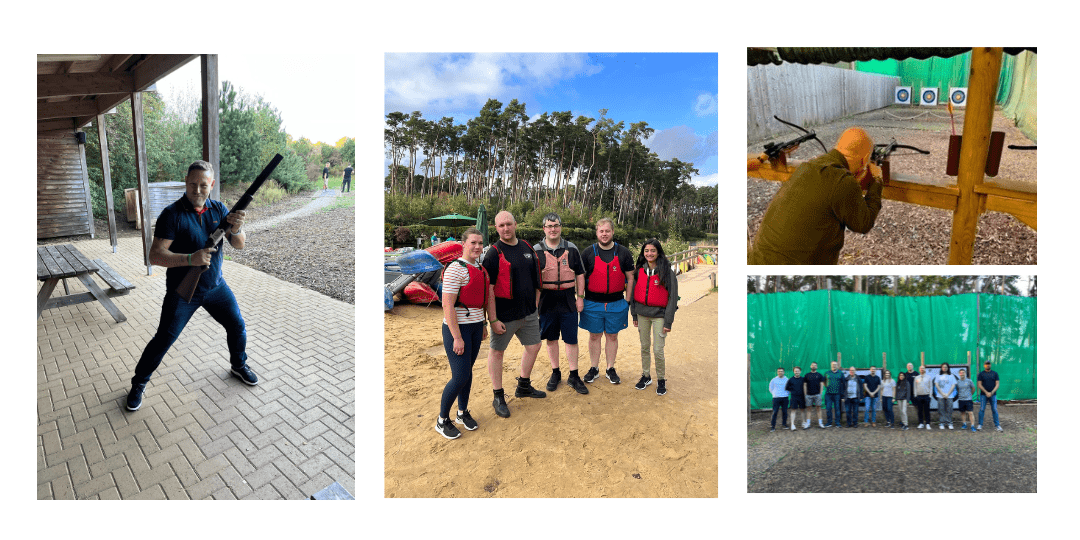 Want to take part in next year's BridewellCon? Why not take a look at our current vacancies over on our
careers page
?