With Bridewell celebrating it's 10-year anniversary this week, it's been an opportune moment to look back at our accomplishments since being founded in 2013.
Over the last decade, the business has grown rapidly from a handful of people to an international team of over 210. We're proud of what we've achieved throughout our journey and for our role in transforming and protecting critical business functions through our cyber security services.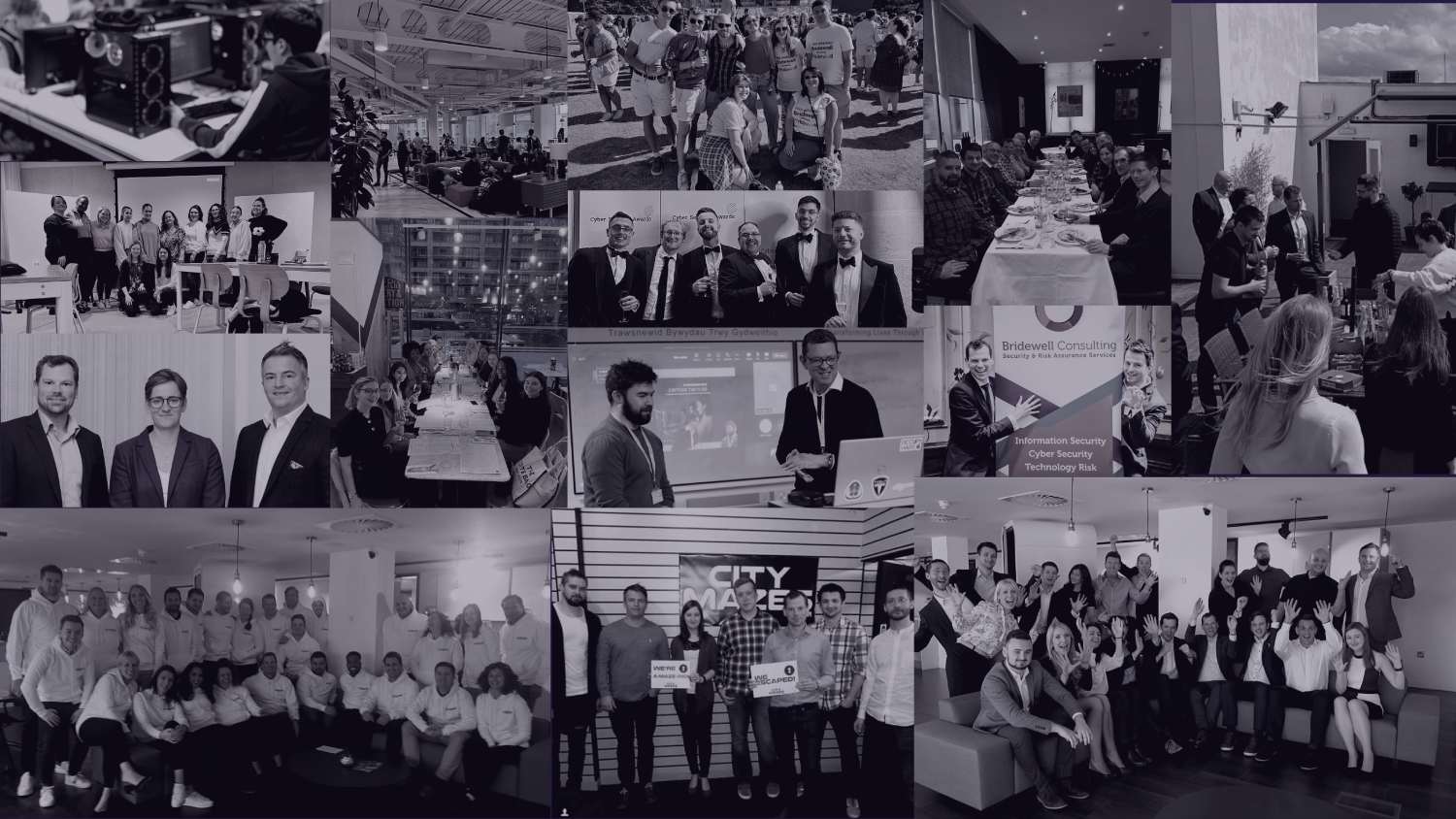 Images of Bridewell employees and projects over the decade.
We covered some of our key achievements in our recent video and press release.

While we've been reflecting on the last ten years, we're also looking forward to Bridewell's future. We spoke with our CEOs, Scott Nicholson and Anthony Young, to share their vision for the next 10 years of Bridewell.
"Of all Bridewell's achievements over the last ten years, something I am particularly proud of is the work we're doing with schools and colleges to get more people involved in cyber security careers. It's well understood that cyber security is far behind other industries when it comes to diversity, with women and individuals from LGBTQ+ and neurodiverse backgrounds typically being underrepresented.

Through our work with the Cyber Schools Hub and Cyber Colleges Cymru, we hope to inspire the next generation of cyber talent and encourage anyone who is interested in a career in cyber security to pursue their goals. Over the next ten years, we are looking to expand our work with schools, colleges and universities to promote people from all backgrounds to see that cyber security is a viable career path.
This isn't just to tick-boxes but to create equal opportunities and increase the diversity of thought and experience within the sector. Our vision is to create a safe, inclusive digital world where people and organisations can thrive and this wholly depends on promoting diversity in the sector over the coming years." - Scott Nicholson, co-CEO
"Over the next ten years, I see Bridewell continuing its rapid growth journey and contributing even more to the wider cyber community. Over the last ten years we've become one of the UK's leading cyber security service providers and we're proud to be a recognised name in the industry. Last year we opened an office in Houston, Texas as part our expansion into the US. As we work with more clients and play a greater role in the US cyber community, we look forward to increasing our market maturity in the region and becoming a recognised name – similar to how we are known in the UK.
Having become a trusted name among critical national infrastructure (CNI) organisations is a major achievement for Bridewell, and maintaining this reputation through the continued delivery of transformational cyber security services is a major part of the next ten years for us. We are a purpose-led company and that will continue to shape the work we do moving forward. We are always finding ways to do more to protect CNI organisations and this will certainly be a driving factor behind our expansion into new regions where Bridewell can truly add value and make a difference." - Anthony Young, co-CEO